Did you have a productive day?
with Binna Choi

2 juli 2018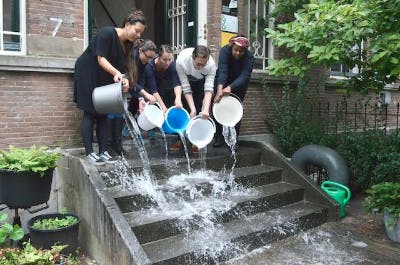 Welcome to an open conversation with Binna Choi, curator and director of the Casco Art Institute in Utrecht. Binna Choi will discuss the implications of "cleaning" for an art institution, especially one that manifests itself to be "working for the commons", namely Casco. Cleaning has become an institutional habit of Casco since 2014, influenced by its relations and encounters with domestic workers through the collective research project Grand Domestic Revolution (2010-2012) and triggered by the Site for Unlearning (Art Organization) with artist Annette Krauss (since 2014)
This is to delve into the issue around so-called reproductive labor vis-à-vis what art institutions do, namely its "productivity" and in turn it's role of "future-making" as in the notion of "project". In doing so, the notion of "ecosystems" would be crucial in their different usages in the work of an art institution for the commons, coupled with the notions of practice, networks, self-organization, solidarity, and ecological crisis.
Binna Choi is a curator and director of Casco, and has, among many other things, been part of the faculty of the Dutch Art Institute, as well as curator of the 11th Gwangju Biennale in 2016. Read more at http://casco.art and in the Facebook event
The lecture is presented as part of Konstfack's postgraduate course Sites and Situations, in collaboration with Konsthall C. The lecture will be held in English. We will open our exhibition Nordic Trouble from 16:00. Welcome!