Jag gör vi varje dag
Interview with Johanna Gustavsson

1 december 2020–1 januari 2021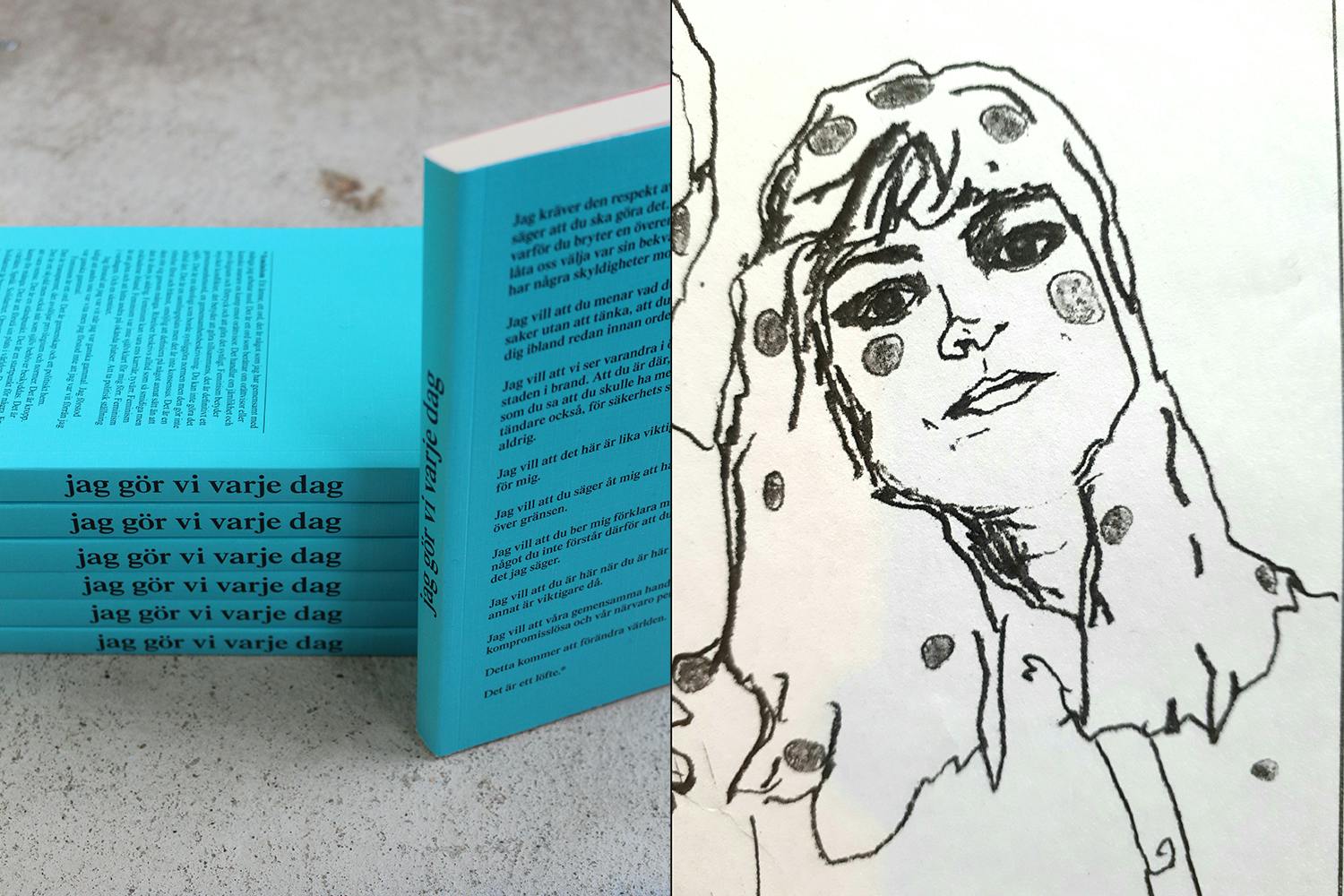 This week we pay attention to "jag gör vi varje dag", which was published in 2014 by Johanna Gustavsson in collaboration with, among others, Konsthall C. Here Johanna discloses some thoughts behind the book.
How did jag gör vi varje dag come about? Do you remember the collaboration with Konsthall C?
The text emerged with the great support of Jennifer Hayashida who was the editor of the book. I wrote for about a year and we had regular conversations during that time. The then artistic leaders at Konsthall C, akcg - Anna Kindgren and Carina Gunnars, gave us the art gallery as a workplace when it was time to do the final work. There we also had meetings with the fantastic designers Maryam Fanni and Rikard Heberling, so it was a bit like a communication center for making the book. We also held the release at Konsthall C.
Have you read the book in recent years? How do you feel about the text now?
No, I have not read it for a long time but it is in my bookshelf. I feel great warmth and tenderness for the text, we have a good relationship.
Who did you write it for? Who would you like to read it today?
Part of the book is a mail conversation between Lolita Lebrón, Julia De Burgos, Simone Weil and Johanna Gustavsson. For me that conversation, between feminists, outsiders, revolutionaries, losers, geniuses, fearless and insecure, over time and generations, was extremely important and comforting when I wrote the text. I hope the book can work in the same way for those who need it. And with the forced isolation of the prevailing pandemic, perhaps there is a great need for that kind of company?
Is there any book you read yourself that really influenced you and your way of looking at the world?
Wow, there are so many! But ok, if I'm going to pick one I say: A Small Place by Jamaica Kincaid, Hun er Vred (She is Angry) by Maja Lee Langvad and The Buddha in the Attic by Julie Otsuka.
Johanna Gustavsson is an artist. She has one foot in the art world and one in theater, and works with performance, performing arts, text and moving images. She is educated at The Whitney Independent Study Program in New York and at the Valand Academy in Gothenburg. Since August 2017, she has run the course Film, Text & Performance at the Women's Folk High School in Gothenburg.
There are some copies of jag gör vi varje dag at Konsthall C. The book costs SEK 100 + shipping and you can pay via Swish or invoice. Order the book by emailing info@konsthallc.se