Last Yearz Interesting Negro, feat Rowdy SS
In collaboration with Gather Festival

14 september 2018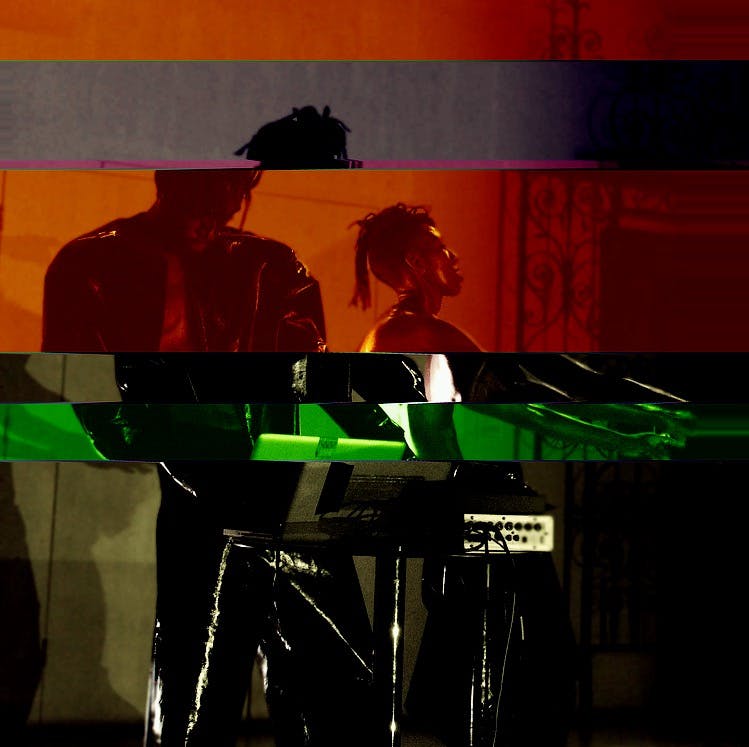 Konsthall C is honoured to present for the first time in Sweden one of the most experimental choreographic voices today - Last Yearz Interesting Negro, with a new work adapted to the specific architecture of Konsthall C and using the setting of the exhibition A Debt of Times.
to be open, to forge an opening, to allow possibility to inform probability.
inside /
A one time work of sonic and physical findings meeting in a space with Rowdy SS and Last Yearz Interesting Negro.
new/remove/old/remove/improve/remove/remove
"It is interesting to return to the piece in my mind days later: it exists in my memory like a kind of circle (a performance Mobius strip, maybe I heard that phrase again yesterday and was reminded of how much I love the image). But what I mean is, I cannot remember a beginning and end so much as a sense of continuity that can arrive back on itself.
I've been thinking a look about echoes and rhymes: ways of repeating but with difference as well as with cause and effect. This seems relevant. Also because both organise a relation in time, which is cause and effect but also perhaps less linear than that.
[...] all of it, like the soundscape, seems to be on the edge or in between two clearer positions. Not just music or melody but also not just noise. But less a liminality, an idea I am sick of, but more a triangulation, an idea I am told I misunderstand but that I understand to mean when two points are used to understand a third. And, how are the idea of noise and the idea of music used to understand this third position which is not between them but is its own clearly occurring position even if I cannot wrap language around it: this is perhaps a metaphor for how I feel about all of it."
- Jane Frances Dunlop, extracts from comments on 48hours, 10 November 2017
Last Yearz Interesting Negro makes performances involving dance, video and sculpture. Working with in-between spaces, syncopation, trance states, internal narratives, intensities, overwhelm, electronic music, and small dances to affect/disrupt/deflect/distort/reflect gaze(s) directed towards their body, and to cope with Being. Resultant choreographies are stage/dreamspace/battleground, working through questions of presence, visibility, responsibility and pleasure, building atmospheric landscapes through the live unfolding of the tensions between things that produce meaning, for situating and expanding (or dismantling) their 'identity' and turning it into theatre.
Their current research is around boundaries, betrayal, nonbelonging, scale and trans/formation, on personal/structural/symptomatic/somatic levels. Thinking about impact and exchange through/in/as movement, considering the intimacy and treachery of performance.
In the work, Liveness is considered as a situation of exchange, a quality, a proposition, a system of relations and in addressing the agency of the spectator, considering choreographic space as social space in order to facilitate immersive, emergent spaces for performer/s and spectator/s.
They collaborate under various names. Collaborators include Phoebe Collings-James, Alexandrina Hemsley, Fernanda Muñoz-Newsome and Shelley Parker. 
http://jamilajohnsonsmall.wordpress.com/
Often creating work at the intersection of sound/music, dance/movement and live performance alongside making videos; his works have delved into love, explored the societal implications of being, first a black boy then man and mined life to share his vision of said life.
His current project is an on going work and includes original sound/music compositions, video, dance and movement as tools for performance to create other spaces, dream/meditative states for exploring repetition and surprise movement, and counter movement. variations of a theme, motifs. moments of definition defined by the previous, predications, relevance and that, which follows. 
Recent performances include Palais De Tokyo,The RA, Southbank Centre, and 180 The Strand to launch Block Universe Performance Art Festival 2018.
Rowdy was previously a member of Atari Teenage Riot, a Berlin based noise band and has worked closely with numerous artists and makers; legendary dub creator Lee Scratch Perry, Ron Arad, Elisha Leverock Smith, musicians Eska, Zero 7, Matthew Herbert, acid house pioneer Adamski and has put on successful club nights 'SOAP' a no photos allowed subversive bass heavy alt trap/post-grime night space and 'SONIC' a clubnight space of inter-active sound/peformance art and DJin at VFD, London.
Current collaborations include works with artist Jamila Johnson-Small (48hours, Fury1), sound compsitions/performances for artist Rebecca Bellantoni and a performance work with Alex Mirutziu.