Symposium: Decolonizing the Curatorial del 2
In collaboration with DOCH/Uniarts.

21 september 2018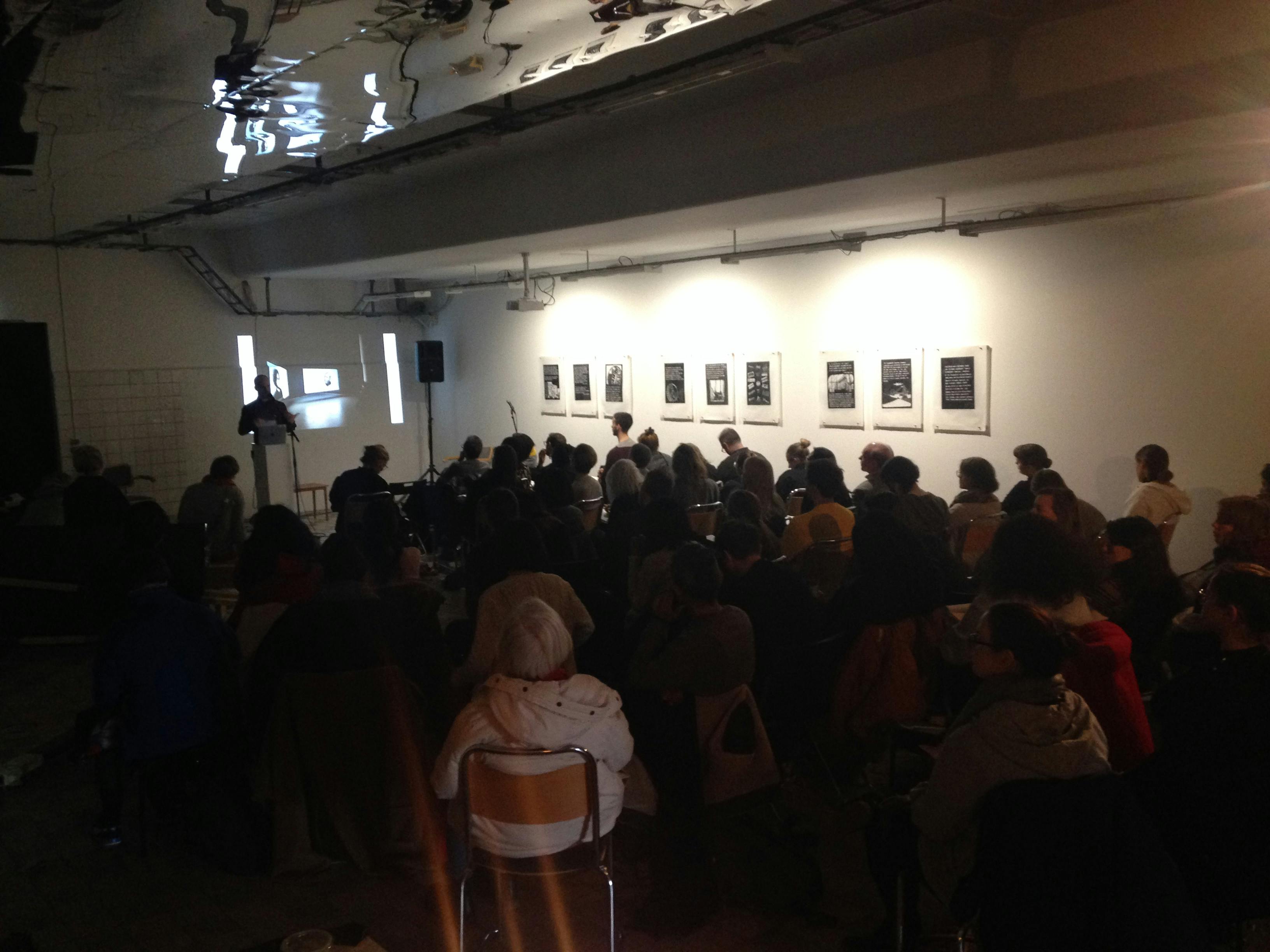 Symposium: Decolonizing the Curatorial del 2: Productions and Re-Productions of Bodies
Decolonization and curatorial spaces investigates how emergent decolonial discourses should impact the curatorship of contemporary visual arts.
The inclusion of contested memories and contemporary colonial narratives in exhibition making procedures forces us to question which memories are included and who is served by the inclusion of those memories. Although these questions underlie a socially engaged curatorial practice, they do not necessarily lead to a rigorous decolonial curatorial process. Using the concepts of decoloniality and decolonial aesthetics is a fairly recent development which is reflected in the existing disjunction between policy and practice. The symposium aims at deconstructing the question why and how to practice decoloniality through the curatorial.
The second part of this symposium series will focus on Production and Re-production of bodies, on the bodily investigation on the relationships among gender, ethnicity, politics, economics, and the sociology of oppression and resistance. How does the internalization of the colonization experience drive the actions of its subjects?
Speakers: Pauliina Fiodoroff, Krista Franklin, Quinsy Gario, Aliocha Imhoff & Kantuta Quiros (Le people qui manque), Ellen Nyman and Luiza Prado.
Listen to podcasts from the symposium here:
Bios and personal statements
Pauliina Feodoroff (b.1977, Oulu. Lives and works in Helsset/Helsinki) is a director of film and theatre and a writer, known for among others, CO2lonialNATION (Giron Sámi Teáhter, 2017) and Non Profit (film, 2007) for which she was awarded the SARV (The Finnish Critics' Association) Critical Incentives Prize in 2007. Her family are originally from the Kola Peninsula, and she grew up in a family of reindeer herding Skolt Sámi. Feodoroff has fought for water and land rights as well as to preserve the reindeer husbandry in the old forests of Nellim in the east of Sápmi/Northern Finland. She has served as elected President of the Sami Council, a period during which Feodoroff visited many remote Sámi communities in Russia where she addressed the issue of mining companies occupying the land. She also participated in a multiannual study of land occupation which resulted in the critically acclaimed publication, Eastern Sámi Atlas (Tero Mustonen and Kaisu Mustonen (eds.), Snowchange Cooperative, 2011).
Krista Franklin is an interdisciplinary artist whose work appears in POETRY, Black Camera, Copper Nickel, Callaloo, Vinyl, BOMB magazine, Encyclopedia, Vol. F-K and L-Z, and several anthologies. She is the author of Under the Knife (Candor Arts, 2018) and Study of Love & Black Body (Willow Books, 2012). Franklin is a frequent contributor to the projects of fellow artists, including performances, prints, and voiceovers for the projects of Cauleen Smith, and the text for Ayanah Moor's "Untitled (OFFERINGS)." Her art has widely exhibited at Poetry Foundation, Konsthall C, Rootwork Gallery, Museum of Contemporary Photography, The Studio Museum in Harlem, Chicago Cultural Center, National Museum of Mexican Art, and on the set of 20th  Century Fox's Empire (Season Two and Three). Krista Franklin is also one of the main characters from Les Impatients by Aliocha Imhoff & Kantuta Quiros. She holds an MFA in Interdisciplinary Arts – Book & Paper from Columbia College Chicago, and teaches Writing at the School of the Art Institute of Chicago.
"My work emerges at the intersection of poetics, popular culture, and the dynamic histories of the African Diaspora. The Fantastic, the surreal, mythmaking, black portraiture, and the collective conscious are conceptual preoccupations of my work. The forms take shape in collage, hand papermaking, installation, poetry, letterpress, altered bookmaking and performance. I appropriate image and text as a political gesture that chisels away at the narratives historically inscribed on women and people of color, and forges imaginative spaces for radical possibilities and visions. Black ritual, the metaphysical and the black nostalgic are core concerns in my art practice. I orchestrate the collision of past, present and future, and mine historical and fictional memory for artistic content. Artist books inspired by the novels of science fiction author Octavia E. Butler, altered books in aquariums, and handmade paper formed with mixed media are a few examples of my artistic output. I drag racialized and gendered past(s) into my work in order to reframe and realign the dynamic psychological and physical experiences of the African Diaspora in the 21st Century. The collective and collaborative are also central to my work. I cultivate artistic community with fellow artists, writers and scholars. This materializes in a diversity of projects from sonic/music collaborations to book and exhibition making, and salons that are committed to the development of ideas and concepts. It is a vital practice for me, and a continuous undercurrent that fosters the advancement of creative liberation, reflection, scholarship and artistic communion."

Quinsy Gario is a visual and performance artist from St. Maarten/Soualiga and Curaçao. His most well known work, Zwarte Piet is Racisme, critiqued the general understanding of the racist Dutch figure and practice of Zwarte Piet (Black Pete). He has a background in gender and postcolonial studies and is a recent graduate of the Master Artistic Research at the Royal Academy of Art, The Hague. He was awarded the Royal Academy Master Thesis Prize 2017, the Black Achievement Month 2016 Black Excellence Award, the Amsterdam Fringe Festival Silver Award 2015, the Kerwin Award 2014 and the Hollandse Nieuwe 12 Theatermakers Prize 2011. He is a board member of De Appel, the Keti Koti Tafel foundation, and The One Minutes, a member of the pan-African artist collective State of L3, and a BAK fellow.

Aliocha Imhoff and Kantuta Quirós are filmmakers, art theorists and curators based in Paris, founders of the curatorial platform a people is missing. For several years, they have been developing a research project that calls for a new ecology of knowledge, based on curatorial formats, that present contemporary thought (diplomatic fictions, mock trials, staged controversies, assemblies and thought experiments on the subject at scale 1: 1). Among their latest curatorial projects and exhibitions, A Debt of Times ( Konsthall C) Le parlement des poètes (Ateliers Médicis, 2018), Le procès de la fiction (Nuit Blanche, 2017), Une Constituante migrante (Centre Pompidou, 2017), A Government of Times (Rebuild Foundation, Chicago, Leipzig, 2016), La frontera nos cruzo (Museo de la Inmigracion, Buenos Aires, 2015), Post-exotisme (New Haven Fort, UK, 2015), Cinéma Permanent in Leiris & Co (Centre Pompidou Metz, 2015), Au-delà de l'Effet-Magiciens (Fondation Gulbenkian, Laboratoires d'Aubervilliers, 2015), The Accelerationist Trial  (Centre Pompidou, 2014), La géografia sirve, primero, para hacer la guerra (Museo de la Memoria, Bogota, 2014), A Thousand Years of NonLinear History (Centre Pompidou, 2013), Fais un effort pour te souvenir. Ou, à défaut, invente. (Bétonsalon - Centre d'Art et de Recherche, 2013), L'artiste en ethnographe (Quai Branly - Centre Pompidou, 2012), Que faire ? art/film/politique (Centre Pompidou, Palais de Tokyo, Beaux-Arts de Paris, 2010).
Kantuta Quirós is Lecturer associate at the National School of Architecture. Aliocha Imhoff teaches cinema and art theory at Paris 1 University. The directed the publications Géoesthétique (Editions B42, 2014), Histoires afropolitaines de l'art, Multitudes 53-54 (2014), publié Les potentiels du temps, Manuella Editions, 2016. They are currently developing Les Impatients, a film-essay, a chronopolitical series. www.lepeuplequimanque.org
Luiza Prado de O. Martins is an artist and researcher born in Rio de Janeiro in 1985, four hundred and eighty-five years after the Portuguese first invaded the land currently known as Brazil. She holds an MA from the Hochschule für Künste Bremen and a PhD from the Berlin University of the Arts. Her work investigates the ways in which colonial gender difference is inscribed and imposed upon and within bodies through technology; over the past four years, she has been researching practices of birth control through performance, video, and installation. In her latest works, she examines practices of indigenous and folk medicine, with a focus on the contextual use of herbal remedies for birth control in Brazil as strategies for pluriversal future-making.
Ellen Nyman is a Swedish performace artist and researcher based in Stockholm.
Decolonizing the Curatorial genomförs med stöd av Kulturkontakt Nord / Nordic Culture Point.