Lecture series Fotografi i arbete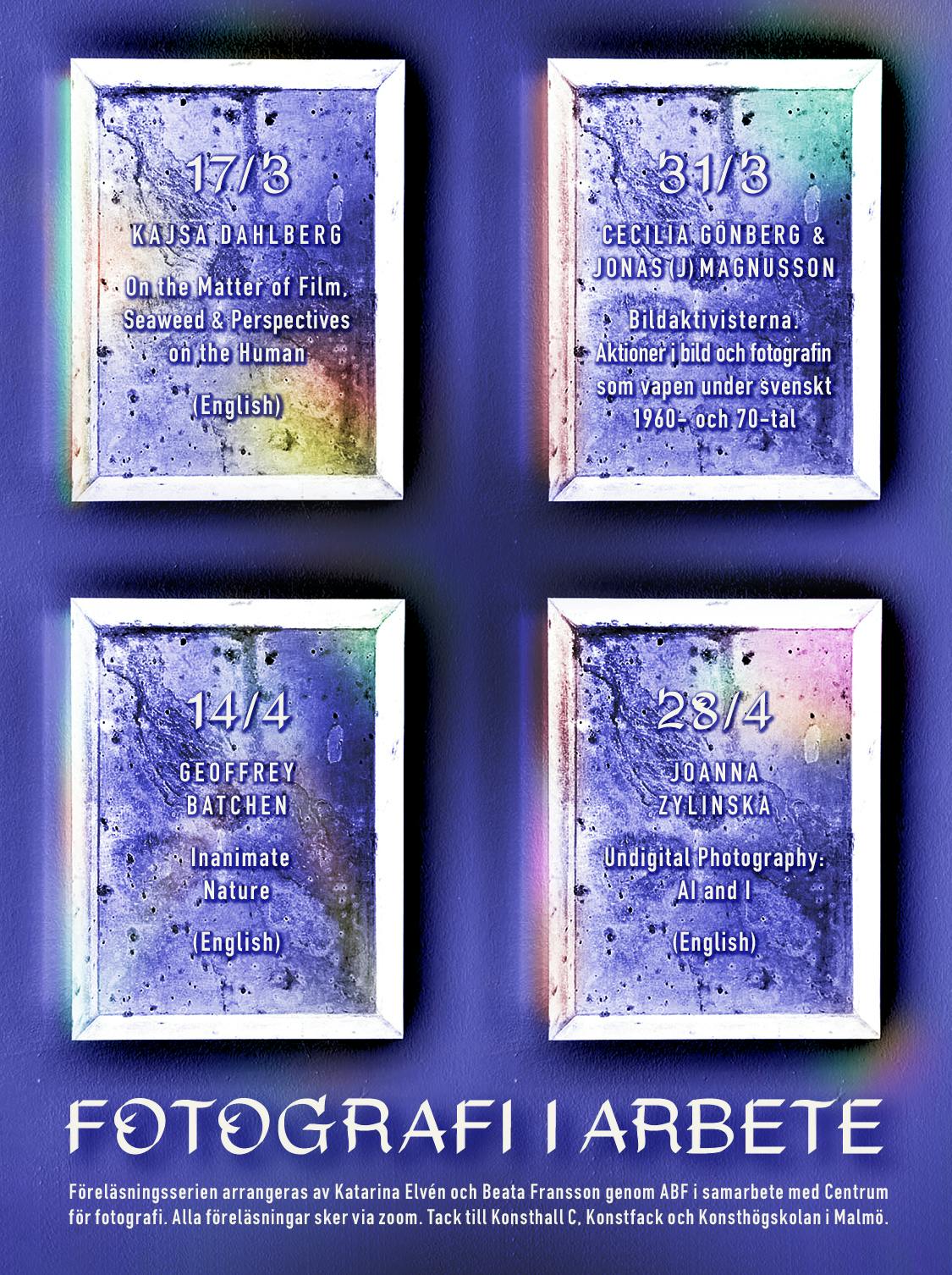 Konsthall C is co-organiser of Centrum för Fotografi and ABF Stockholm's study circle and lecture series "Fotografi i arbete" (Photography at work), which discusses the role of photography in relation to society.
The camera and the photograph are an ongoing work, they are tools that make visible, spread and hide at the same time. Technology does something with our perception and with our way of reading the world. It affects the way we navigate and interact with our surroundings.
Curators for the lecture series:
Katarina Elvén and Beata Fransson have invited four lecturers under the heading "Fotografi i arbete". All lectures take place via zoom. Look out for links.
Katarina Elvén is an artist and photographer, educated at the Högskolan för fotografi in Gothenburg with extensive experience of teaching photography at various levels. Currently relevant as curator for the exhibition "Någon sorts kunskap – fotografi ur och av samlingar" at Västerås konstmuseum.
Beata Fransson is an artist and photographer, educated at the Malmö Academy of the Arts with 15 years of experience in contemporary art and its various contexts. In 2019, she published the book "Jag, studion" on Sailor Press.
Keep an eye on Konsthall C's Facebook where we update on the Zoom links.
Program:
17/3 Kajsa Dahlberg lecture
On the Matter of Film, Seaweed and Perspectives on the Human (in English)

31/3 Cecilia Grönberg Jonas (J) Magnusson lecture
Bildaktivisterna. Aktioner i bild och fotografin som vapen under svenskt 1960- och 70-tal (in Swedish)

14/4 Geoffrey Batchen lecture
Inanimate Nature (in English)

28/4 Joanna Zylinska lecture
Undigital Photography: AI and I (in English)
Zoom link: https://us02web.zoom.us/j/88360820645?pwd=VnMvL3BvRjBnRlM5QzZvb3ZWYzVBZz09