PRE-POST-POST-MODERN-SURREALIST-REALISM
Ade Sluzky

23 september–1 oktober 2022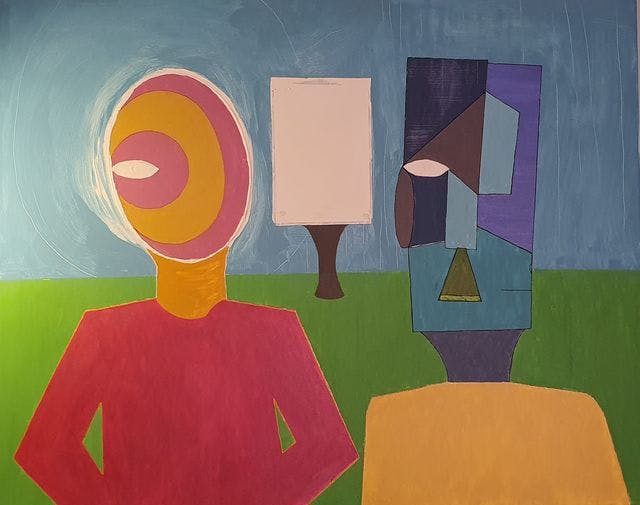 "Attention is a moral act," - Iain McGuilchrist
OPENING 24.09.2022 at Konsthall C / 13:00 with drinks and snacks
Artist present most days.
Poetry performances 15:00 Saturday 24th and Sunday 25th
PRE-POST-POST-MODERN-SURREALIST-REALISM is a collection of paintings, drawings and video-screen imagery by British postman poet Ade Sluzky. This is an expanded version of his previous exhibition, now with larger, previously unseen works on display.
Dream states, consciousness, salience and sentience are carried over into the material world in this invitation to notice what arises at the arresting of one's attention; to search for words at that silent pause of thought available to us at any chosen moment. What do we say? What do we really want to say?
"I have always doodled. Little drawings of abstract figurines, Necker cubes and the occasional, spontaneous horizon. These drawings would quite often find themselves to be the illustration under a completely un-related piece of writing. The relationship between the text and the image revealed surprising results: We correlate; it's what we do. Our brains domino tumble streams of thought that we can interrupt at any time. Do we pursue meaning? Stay loyal to procedure? What do we want?"
These images are abstract recordings of memories. The memories of the times they were created. They are the carrier wave of communication from another's memory, a passed on past to the viewer's receptivity. In a sense, the viewer completes the work. Feel welcome to share thoughts in the box provided
Ade is an artist from Brighton, England. Alongside his painting, he is a stand-up comedy poet with a long time experience in the film industry; currently working as a podcast listening postman. He moved to Sweden in 2000 and has participated in many film, theatre and art projects as a solo artist and collaborator. He is 49 years old.
https://www.facebook.com/Prepostpostmodernsurrealistrealism20