Thoughts on Aktivering Samtal (2020) by Chih Tung Lin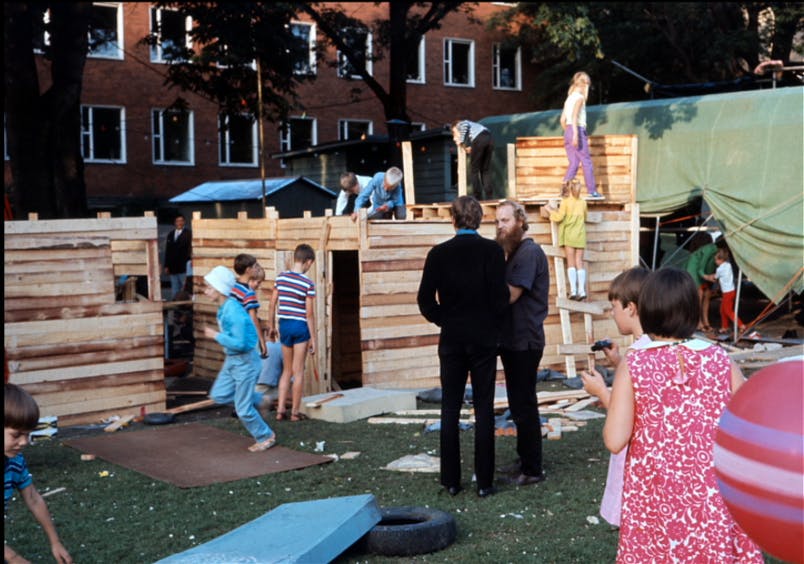 Konsthall C's intern Chih Tung Lin has written a text reflecting on Mats Eriksson Dunér's film Aktivering Samtal, which is shown in the ongoing exhibition All Makt Åt Fantasin - staden som lekplats.
I have a vivid memory about a national contest I participated in when I was a child. It was an annual drawing contest held specifically for elementary students. Contestants were given a piece of paper with an unfinished pattern outlined on it. With imagination, the contestants were supposed to develop the pattern until completion and make a drawing based on the pattern. I participated in the contest three times. Each time, I experienced an adrenaline burst creating a drawing. The meaning of the contest was for me not about simply competing against others or drawing a piece but immersing in the 'world' I was building in my head. The world was a realm that I accounted for playing the role of an architect, construction worker, and resident. It was also a space that I constructed with markers, paint brushes, and crayons as tools. But most of all, my imagination.
The contest was one of the most exciting events in my childhood, because it introduced me to freedom of creativity. As I was watching artist Mats Eriksson Dunér's film Aktivering Samtal (2020), I was positioning myself very much as the children who were enjoying play. I found it interesting to perceive the events from the perspective of 7-year-old me and the aspects of DIY, friends, strategy planning, and fun I was drawn to. The children were indeed the main characters of the film, despite the background being the Swedish activist group Action Dialogue (Aktion Samtal)'s movement in retrospect. The activist group, consisting of children pedagogues, architects, artists, and activists, was known for their projects that involved local residents and children to 'construct their own playgrounds' together in order to vocalize a better future in the society. 
I spoke to Mats to learn more about his intention to approach the topic. Despite the fact of him residing in Stockholm for a long period, he has been interested in 'creative play' as a strategy in art and urban planning. Following his previous work It was a time when everything was possible - All power to the Imagination! (Det var en tid då allt var möjligt - All makt åt fantasin!) (2014), in which he invested in the all-activity center Gamla Bro in Stockholm that opened during the late 60s, Mats continued in portraying the similar collective urban activities in Aktivering Samtal (2020). He answered that ever since he became a father, he intuitively started to view things from the children's perspective for the sake of a better future. I could feel the tenderness in his vision when he spoke from the other end of the phone.
To create a better future was in fact a wish of Action Dialogue. As their name suggests, the activist group was determined to make dialogues. However, what I found interesting was that they converted a dialogue into an 'experience' itself. The dialogue, instead of being issued directly, was morphed into an experience that appeared to children as an invitation to play, to parents as a trigger to think, and to bystanders and government departments as a challenge to react upon. The process of initiating a conversation was tossed into open air. From the film, I could sense the participating members and artists acting free minded towards an outcome. However, it was not like they were careless about what message they were conveying. Quite the opposite, the multiple events were designed with an agenda, details were thought through thoroughly, and questions were followed by answers. I believe that an outcome, despite being a rewarding moment to witness, is not as crucial as the evolving conversational process. In most of the events, no intention was planted, nor did interferences take place. With a mere purpose to enable the fullest potential of free expression, the essence of Action Dialogue's movement illustrated in Aktivering Samtal (2020) appeared to me heavily process oriented. A process-based mindset, in my viewpoint, is what activates playfulness in one's behavior.
Aktivering Samtal (2020) disclosed the activist movement taking up space in all from neighborhood courtyards to a city museum. One of the values I saw in their movement was persistence. The core of the movement appeared to me as determination in maintaining an ongoing conversation, no matter where the location of the dialogue would place. Another consistent element I paid attention to where their site-specificity. Action Dialogue took all opportunities to bridge connections to their surroundings. By connecting to the local neighborhoods, neighborhoods further away, and an art museum environment, they were able to make conversations happen in various sites, engaging a broader and more diverse group of target-audience in discussing the topic they wished to address.
Here I would like to discuss more on the project that took place inside the art museum –The Model–A Model for a Qualitative Society (Modellen–En modell för ett kvalitativt samhälle) – the step in Action Dialogue's movement that expanded conversations to a novel domain. The project opened at Stockholm's Moderna Museet in 1968 and was a collaboration with Artist Palle Nielsen. Distinct from how previous 'dialogues' were organized, The Model took place in an art museum, a relatively framed environment. The Model highlighted the role of play in the museum as well as children's freedom of expression and creativity. In an essay, art critic Lars Bang Larsen wrote that the project documented "new possibilities for behavior in the white cube as a realised space of the imagination" (Larsen, 2007, 124). Indeed, The Modelcreated a space not only for children to explore their imagination but also adults to witness an imagination-come-true. Viewed under the context of an exhibition, the project conveyed its idea successfully using rhetoric, playfully or metaphorically. I did not linger on the then discussion whether The Model was art and an exhibition in the "right" and "true" sense. Instead, I was fascinated by the consistent approach in their actions, and the boldness and almost innocent spirit in their behavioral pattern. In my opinion, their devotion in maintaining a dialogue so important to them made their intention fulfilled in the realm of activism, social experiment, and art.
To start a dialogue requires effort, but maintaining a dialogue demands even more devotion. Aktivering Samtal (2020) showed how challenging it was retaining action. All projects, despite running short or long, face an end when objectives are fulfilled or other reasons interrupt. The ending of many similar projects related to community development or urban planning in my country Taiwan for example, is often planned because the projects usually run under a limitation of time and manual labor budget. Therefore, organizers in charge of the projects would strategically schedule a time which notes when they will have to leave the community they are working in. With this, it becomes crucial that the community members are willing to take over the project once the initiators withdraw from it. 
An example from Thailand demonstrates the potentiality of future shaping when the local communities actively engage in the projects and retain action. The 3C project -- cycling, canal, and community -- in Bangmod, Bangkok was first initiated to save the canal from pollution, develop and improve the transportation problem in the capital area. To encourage residents to commute more with bikes and boats, the project invited artist to create artworks for the walls and bridges. With support from the government, they also worked on extending the bike lane along the canal, so more locals as well as tourists can make use of it. In addition, the project ran an annual festival that helped boost the economy of the surroundings. Over the years, the area had severely changed in its appearance. Experiencing the power of change, local residents also started organizing projects such as weekend fairs in between the annual festival to keep the spirit of 3C project alive. Jay Koh, a Singaporean artist and curator who joined the organizers after witnessing the change in Bangmod, writes in his theory ALPP (art-led participatory processes) that "encounters and interactions progress through various social stages: from being strangers, acquaintances, friends, co-participants, and possibly collaborators." (Krich, 2018). What I see in the 3C project is the power to make an impact when multiple agents assemble. Not only did the project draw governmental organizations and like-minded professions to contribute, but it also gathered local communities together. And most of all, they realized the aim of change by establishing an attitude that nurtured a long-lasting movement.
A dialogue can easily begin by one or two; however, it is more likely to maintain an endless dialogue when the process allows space of flexibility for more strands of conversations to intertwine. Aktivering Samtal (2020) ended on a note where the activist group disbanded, but a few members continued to make action in the field of child pedagogy by publishing children's books. In my point of view, the movement of Action Dialogue never ended, because the dialogue that first started among members has been extended to the neighborhoods, the museum visitors, and eventually, the complete outsiders. Afterall, I was convinced that decades of archiving a dialogue would be successful, because the ones who were seeking change shared a consensus in prioritizing space forfreedom of creativity and imagination, as well as freedom in enjoying process of development.
Larsen, Lars Bang. True Rulers of Their Own Realm: Political Subjectivation in Palle Nielsen's The Model? A Model for a Qualitative Society. In Afterall Volume 16 Autumn/Winter 2007. Central Saint Martins, University of the Arts London. doi.org/10.1086/aft.16.20711666
Krich, John. Bangkok canal community turns to art for survival. Nikkei Asia: Arts. Published February 24, 2018. Accessed April 30, 2021. https://asia.nikkei.com/Life-Arts/Arts/Bangkok-canal-community-turns-to-art-for-survival