Seminare on Aktion Samtal
Mats Eriksson Dunér

15–12 augusti 2021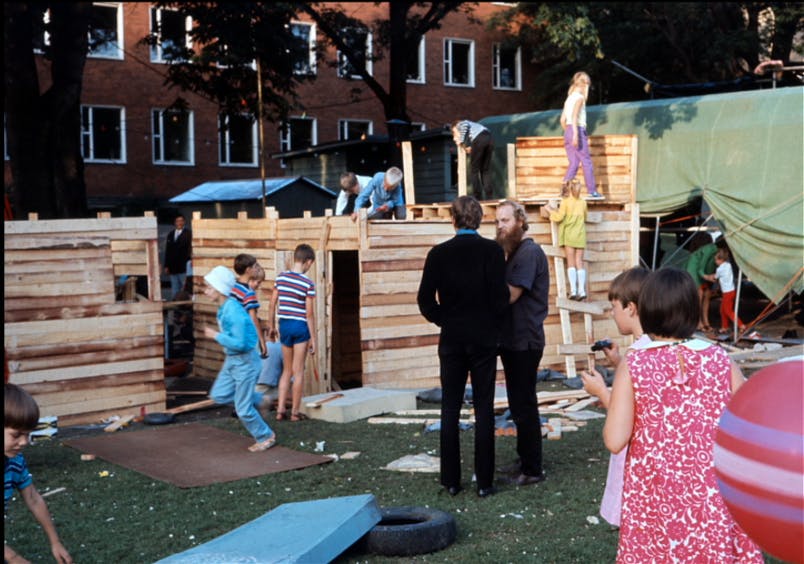 "The revolution must begin in the sandbox "What do children have to say about urban planning and the democratic society? Conversations and film screenings about the project Action Conversations.
Aktion Samtal (1968–78) was a group of young educators, artists and people from the theater world who organized themselves during the late 1960s. The purpose was to promote children's creative development, cooperation and further lay the foundation for the next generation's management of our society. The activists wanted to influence the urban environment and make it better, from a child's perspective. Through a series of activities in playgrounds, schoolyards, suburban squares, backyards and at the Moderna Museet, Aktion Samtal carried out a series of highly acclaimed and playful city actions in Stockholm. They built construction playgrounds with collective play equipment that became a new kind of gathering place for the children, where they could learn to work together instead of just playing individually. "The revolution must begin in the sandbox," says a Danish pioneering model. The intention was to criticize how ill-adapted these environments were for children, and by showing alternatives, with invited pressure, the actions were very successful and spread widely.
After a while, Aktion Samtal changed its name to Arkiv Samtal and moved to a disused larger nursing home in Smedjebacken, where they could hold courses, continue their work, and try to find a balance between life, art and their own children. Aktion Samtal / Arkiv Samtal also went from initiating actions themselves to increasingly supporting other groups around Sweden, who could contact them, attend courses and get help in the implementation of construction playgrounds, open community premises and other issues that were close to Aktion Conversation / Archive Conversation.
The witness seminar on Action Conversation / Archive Conversation is based on the film Activation Conversation, which is shown at Art Gallery C, during an ongoing exhibition. The conversation invites three people who in different ways participated in Archive Conversations.
Participating
Kajsa Ohrlander
Is an author and doctor of pedagogy. As a historian of childhood and gender, she has dealt with 1968 with a focus on the uprisings against children and women's subordination that were going on and Arkiv Samtals' role in this. She herself participated in several of Arkiv Convers 'activities, including the "Fagersjö project" 1972–74, a community project based on Arkiv Convers' ideas.
Torkel Spindler
Are children of parents who were both active in Arkiv Samtal, and partly grew up in the collective at Storsand in Smedjebacken. He currently works with children and groups in school ship operations.
Margit Schiött
Are cultural workers who have most often worked with children in, among other things, construction playgrounds, instrument construction and musical theater. In recent years, she has mainly worked with music and performance. Schiött was part of Aktion Samtal / Arkiv Samtal from the start and for a number of years to come. She has lived in Norrbotten since 1974.
The conversation is led by Mats Eriksson Dunér, who made the film Activation Conversation (2020) which is shown at the exhibition, and who is an artist and artistic researcher. The conversation is part of the exhibition All power to the imagination - the city as a playground.
Public program in collaboration with ABF.
Time and date
Sunday, August 15, 14:00 - 15:00
Bilder