Tore Hallas and Cristian Quinteros Soto
Body and shame - Artist presentations on body ideals, queerness and societal norms.

19 augusti 2023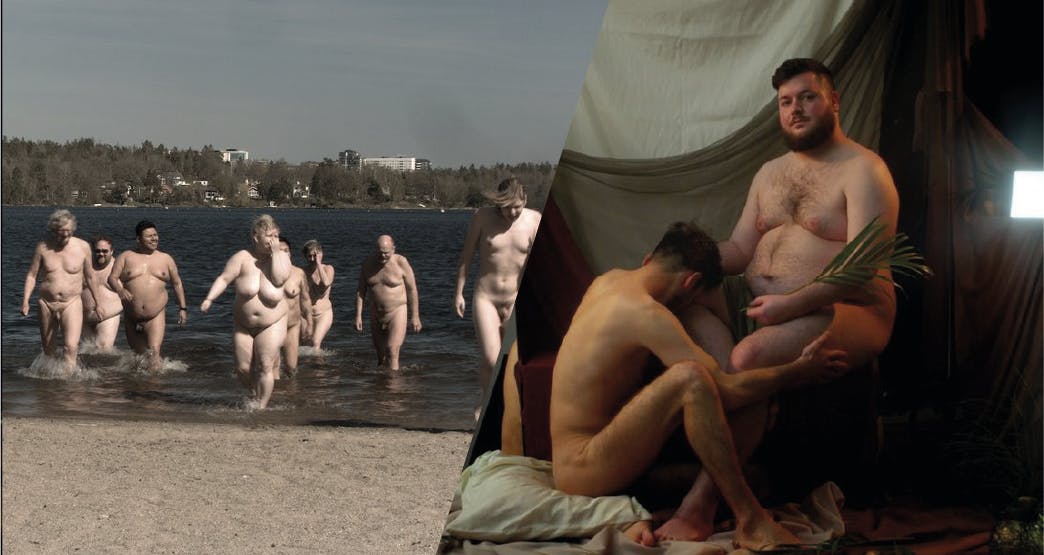 Sat 19th of August at 2 pm - 4 pm at Konsthall C. Artist presentations as part of the final weekend of The New Subject exhibition
Tore Hallas och Cristian Quinteros Soto 

We are thrilled to invite you to an existing artist talk Saturday 19th of August featuring two remarkable artists who are pushing boundaries and exploring thought-provoking themes around body ideals, shame, queerness and social norms through their art practices. 

Tore Hallas, based in Copenhagen, Denmark, is a visual artist whose work navigates the realms of fatness, queerness, religious ontologies, and intention. Through video, photography, and text, he explores personal narratives and intersections of violences and positionalities. Hallas' exploration of the othered body and mind is infused with themes of travel and displacement. In the current exhibition Hallas is showing his work  "And Going After Strange Flesh", a two-screen film. This work draws inspiration from a passage in the Bible that describes the cities of Sodom and Gomorrah surrendering to fornication and possibly homosexual relations. Hallas uses this premise to explore the intersection of shame, male homosexuality, and fatness. 

Hallas holds an MFA from The Royal Danish Academy of Fine Arts, and is the recipient of the Danish Arts Councils career program 'The Young Artistic Elite', as well as the Poul Erik Bech Foundations Art Prize and the 15. Juni Foundations Honorary Art Prize.

Cristian Quinteros Soto explores in his artistic practice collective experiences such as migration, in-betweenness, and care. He creates and investigates spaces for collective nudity that can create a potential to neutralize the expectations that the body is exposed to in society. Can these rooms enable a dialogue about the body that is decoupled from the framework of society. Quinteros Soto's research takes places where collective nudity is practiced,  where it is natural to talk about nudity, body norms and methods of care. By conducting the conversations in places created for nudity, Cristian Quinteros Soto tries to understand how such rooms change our view of the body, and what methods exist to enable a normalization of the non-normative body.

Cristian Quinteros Soto based in Stockholm. He is an artist trained at the Royal Academy of Arts in Stockholm. He works with artistic research, photography and video.