Unkilled
Hanna Heilborn and David Aronowitsch

11 december 2021–6 mars 2022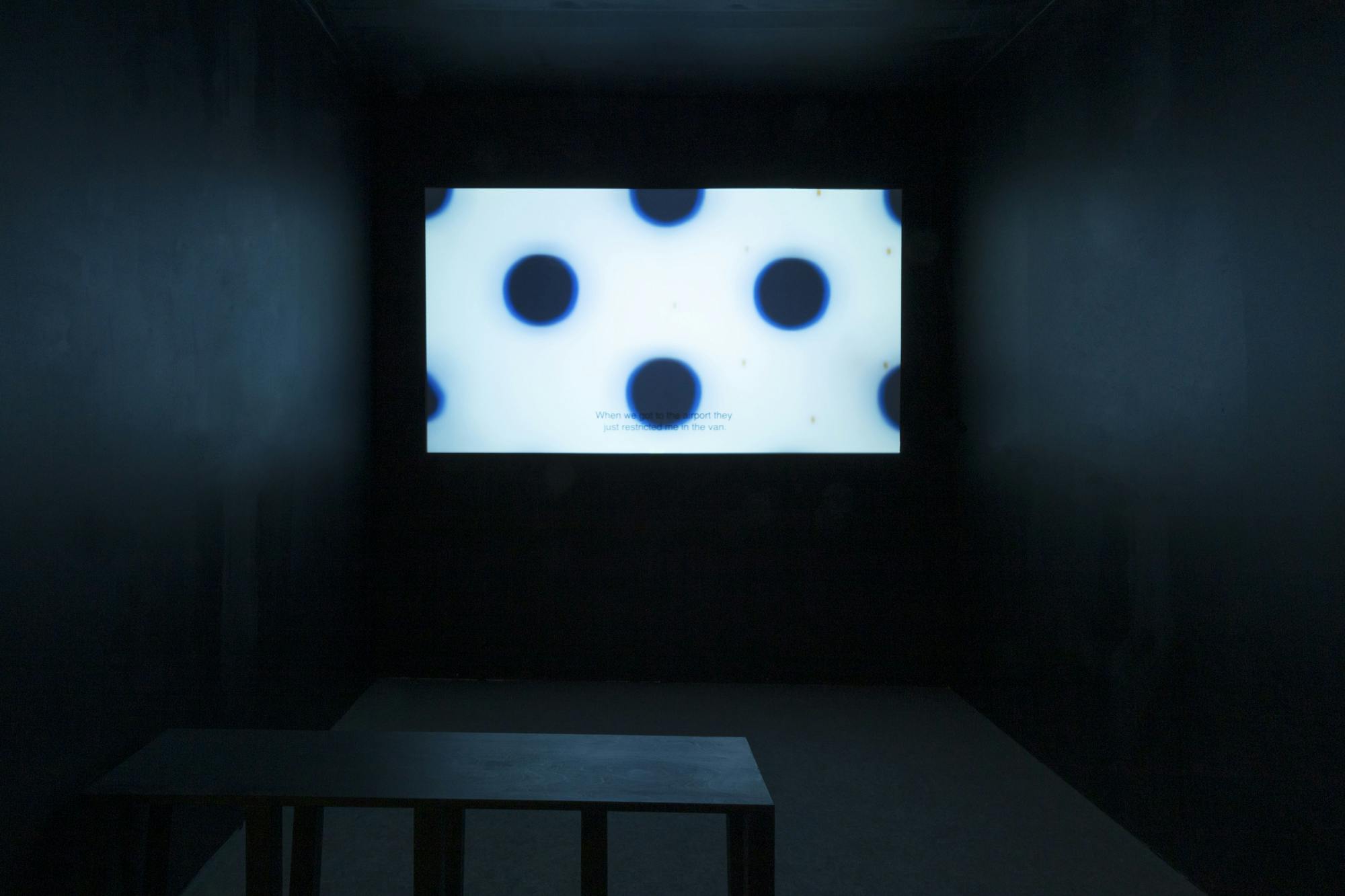 Konsthall C proudly presents Unkilled, an exhibition about refugee detention. Unkilled is based on material from a film project by Hanna Heilborn and David Aronowitsch.
In five audiovisual works, they shed light on the global structure around the detention of people on the run. Three detainees describe their experiences from within detention, in Sweden and England. We also hear a PR representative from the multinational company Serco, one of several private actors that run detention centers for refugees and migrants in the world.
Exhibition period: December 11 2021 - February 13 2022 (Closed December 20 2021 - January 5 2022)
Opening: December 11 at 12 PM.
The works in the exhibition carry an abstract imagery with animations developed together with the animation artist Kaoru Furuko. In on of the works, an audio interview is linked live to an installation by the audio/visual artist Jesper Målsten.
The visual language brings to mind the abstract art movements around and after the Second World War. Here the idea is born that only abstraction, the simple expression, can carry complex thought. Abstraction, its practitioners argued, was a form that sought to destroy illusions and reveal truth, a way of expressing the neuros that is our reality but also at the same time an opening and a possible way to reach our innermost feelings. Combined with documentary sound, Unkilled exposes the system behind detaining refugees and reflects its economic, postcolonial, psychological and lawless dimensions.
Detaining someone in Sweden means that they live in prison-like conditions for which the Swedish Migration Board is responsible. The purpose of detaining a person is claimed to be to prevent the person from deviating from the authorities' control, for example before a deportation. A person taken into custody may not leave the facility and may only receive visits to such an extent that it does not interfere with the operation. In 2020, however, visits are prohibited in the wake of the pandemic.
Uncertainty, loneliness, spatial isolation and the threat of deportation are unique to the detention center, which often causes some form of psychological or emotional damage to the individual. The European Committee for the Prevention of Torture and Inhuman or Degrading Treatment or Punishment (CPT) has repeatedly criticized Sweden for failing to ensure detainees' right to health and protection against mental illness. The right to liberty is a fundamental right, but detention infringes on the right to liberty, which is provided for the protection of human rights at national, regional and international law levels. In Sweden, there are a total of 519 places for individuals and families with children that are divided into six locations; Åstorp, Kållered, Flen, Märsta, Ljungbyhed and Gävle. 
Please note: The exhibition contains testimonies of vulnerability, violence, mental illness and the retelling of a suicide attempt.
Konsthall C's artistic program 2020-2022 examines people's voice and language, i e the ability to speak and the ability to formulate themselves in relation to their own and others' rights. We invite artistic practitioners who, through a powerful poetry of language, image, critical thought and movement, give the viewer keys to a deeper understanding of the effects of structural violence and the forms of resistance.
Facebook event:
https://www.facebook.com/events/1572246939804266
Based on a filmproject led by Hanna Heilborn och David Aronowitsch, in collaboration with animation artist Kaoru Furuko, audiovisual artist Jesper Målsten and researchers Elin Eriksson and EE Kihlstrand.
Other participants: Knut Stahle, Elin Kamlert, Claes Lundberg, Amina Khalil, Najibullah Najafi, Mille Haynes, Johnny Chang, Johan Hjerpe, Amanda Kahn, Dennis Harvey, Pontus Stråhle and more.
All African Women's Group, Global Detention Project, Detention Action, Noel Finn, Michael Flynn, Juan Pablo Libossart, Shahram Khosravi, Christian Rossipal, Göran Hugo Olsson, Nils Eidvall and more.
Bilder