Vård och Värde - launch with talks and coffee
Gunilla Lundahl, Nawroz Zakholy, Ulrika Flink & Jenny Richards

11 augusti 2021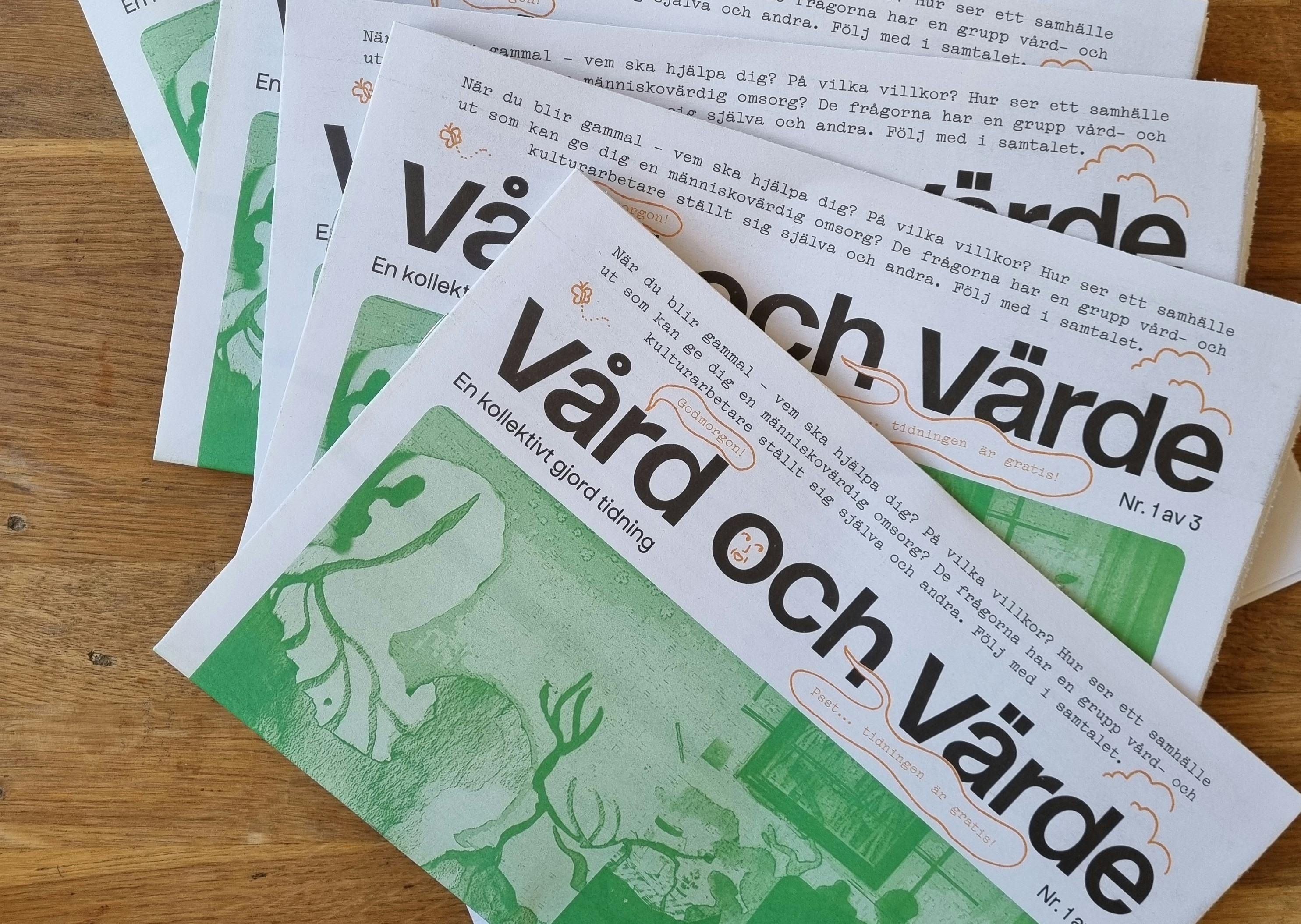 The first issue is out now! Wednesday 11th of August 3 pm.
When you grow old - who will help you? Under what conditions? What does a society look like that can give you meaningful care? A group of health and cultural workers have asked themselves and others these questions in the collectively made newspaper Vård och Värde.
The questions have revolved around how we understand care - a work that we all perform or receive at different stages in life. The
different dimensions of care work - heavy, physical and demanding, loving, warming and grateful. How can we think about a care that binds generations together, that creates new communities and deepens the knowledge of life, that opens the eyes to the complexity of life experience.

Come and have coffee with us when we launch the first issue on Wednesday 11 August at 3 pm at Konsthall C in Hökarängen. We will share some of the different voices and experiences heard in the magazine and invite you to an open conversation to hear about your own experiences and perspectives on care and value.

The newspaper is collectively made by Fredda Berg, Britt and Nilla, Johnny Chang, Ulrika Flink, Rasmus Gabrielsson Eriksson, Mona Lindström, Gunilla Lundahl, Rossana Mercado-Rojas, Louise Nassiri, Jenny Richards, Sanna Tefk e, SBAR.CARE and Therese Brodin, Linnea Swedenmark, Isabella Tjäder and Nawroz Zakholy.

Come and pick up your copy of the newspaper at Konsthall C. Or download your copy here
Graphic design: Louise Nassiri & Johnny Chang 
Front illustration: Rossana Mercado-Rojas 

More about the project
The newspaper has emerged in the meeting between people with different  experiences of elderly care, people who have worked in various forms of artistic work, people who have thought about the power relations embedded in the market thinking about care which 
has lost respect for human value and dignity. The questions have revolved around the great crisis in the organization of care work where people have been exploited, pressured, exposed to stress, underpaid and severely constrained in work arrangements that devalue this work. Furthermore how the class society is exposed through investigating care labour and the conditions offered for work. Finally how those who have had to bear the burden of the pandemic.
The questions have also been about how reciprocity can be developed in how we think
about care. What the alternatives could look like? How collectivity in everyday life can be developed and embrace the idea of care. How through conversation and organisation we can change society. We hope that the newspaper can be an opening for a conversation between care recipients and care providers that otherwise does not fit within the stressful framework of care. We hope that you might want to delve into the newspaper to continue the conversation in an ever wider context, because care is basically a matter of culture and solidarity.

The newspaper is part of the research project Care and Value - a collaboration between care and cultural workers. We explore the conditions for care work from an intersectional and inter generational feminist perspective. The project is supported by Kulturbryggan, Konstfack, Konsthall C, MINT and Kalmar Konstmuseum.