Cine Solidarity: an evening of films about Palestine
Firas Khoury, Jumana Manna, Rosalind Nashashibi, Larissa Sansour/Søren Lind, invited guests and poets.

6 november 2023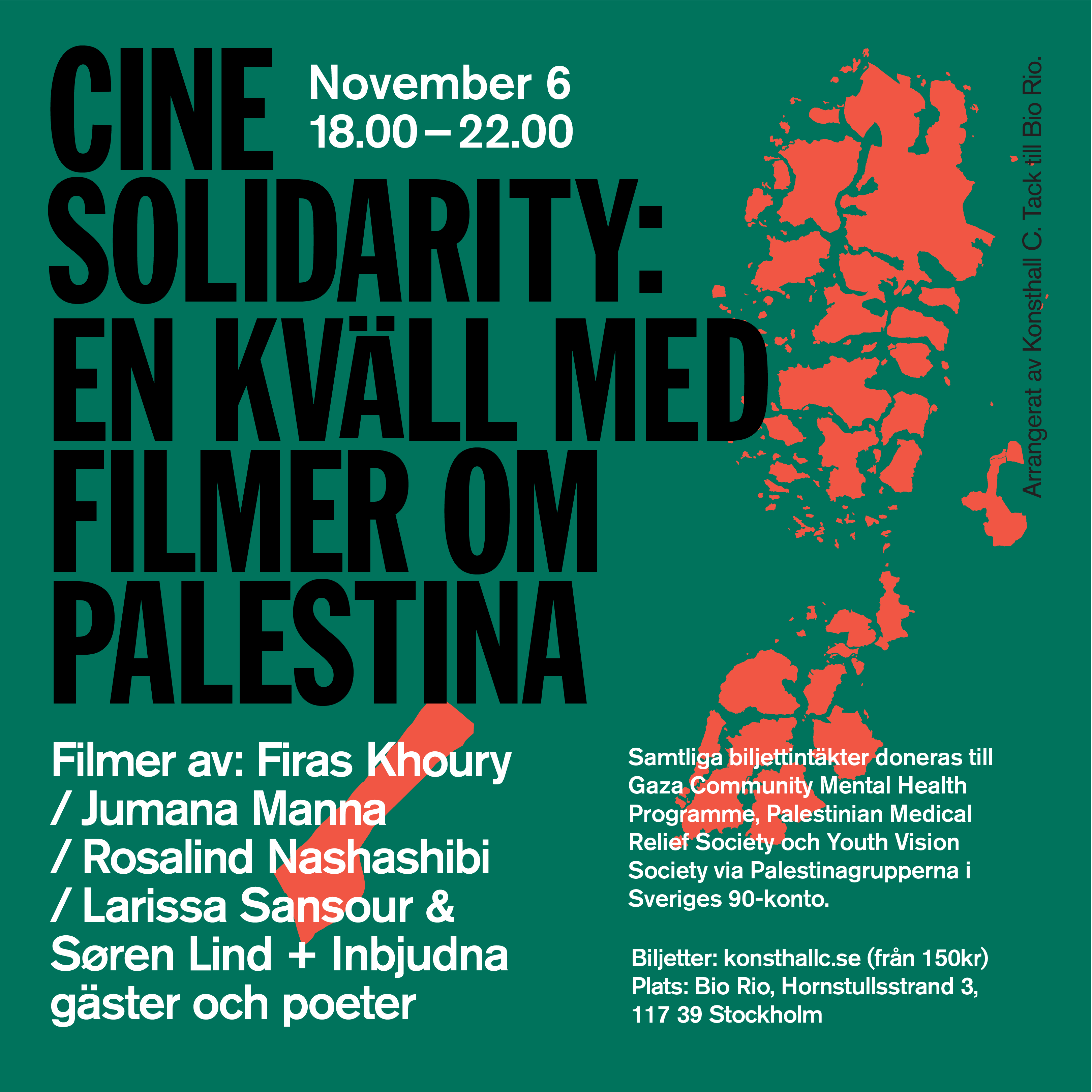 Tickets - you choose what you can pay SEK 165 - 250 (166 seats) see link below.
Konsthall C organizes a film evening to raise money for Gaza in solidarity with the Palestinian people. All proceeds will be donated to the Swedish Palestina groups Palestinian partners Gaza Palestinian Medical Relief Society, Gaza Community Mental Health Programme and Youth Vision Society. We unequivocally reject all forms of violence, including attacks on civilians, whether they stem from direct acts of violence or prolonged systemic oppression. Deliberately targeting civilians and carrying out disproportionate and indiscriminate attacks that harm innocent people constitute war crimes. After an immediate ceasefire, protecting all civilians, and allowing humanitarian aid into Gaza the focus should shift to resuming peace efforts. We believe in a broad peace movement and have therefore invited the Association of Jews for Israeli-Palestinian Peace (JIPF), founded in 1982, to present their work towards a just and enduring peace, based on the principles of national self-determination and independence for both Israelis and Palestinians. Human rights must be upheld for all.
We are grateful to all the participating artists and Bio Rio for their support in making this event possible. 
Films we will be screening this evening:
FORAGERS (2021), Jumana Manna, 65 min, Palestine, Documentary/fiction
Foragers depicts the dramas around the practice of foraging for wild edible plants in Palestine/Israel with wry humour and a meditative pace. Shot in the Golan Heights, the Galilee and Jerusalem, it moves between fiction, documentary and archival footage to portray the impact of Israeli nature protection laws on these customs. The restrictions prohibit the collection of the artichoke-like 'akkoub and za'atar(thyme), and have resulted in fines and trials for hundreds caught collecting these native plants. Following the plants from the wild to the kitchen, from the chases between the foragers and the nature patrol, to courtroom defences, Foragers captures the inherited love, joy and knowledge in these traditions alongside their resilience to the prohibitive law. By reframing the terms and constraints of preservation, the film raises questions around the politics of extinction, namely who determines what is made extinct and what gets to live on. 
Filmmaker/artist bio
Jumana Manna is a palestinian visual artist and filmmaker. Her work explores how power is articulated, focusing on the body, land and materiality in relation to colonial inheritances and histories of place. Through sculpture, filmmaking, and occasional writing, Manna deals with the paradoxes of preservation practices, particularly within the elds of archaeology, agriculture and law. Jumana was raised in Jerusalem and lives in Berlin.
Electrical Gaza (2015), Rosalind Nashashibi, 17 min 53secs, Palestine/UK, Documentary
In 'Electrical Gaza' Rosalind Nashashibi combines her footage of Gaza, and the fixer, drivers and translator who were her constant company, with animated scenes. She presents Gaza as under a spell; isolated, suspended in time, difficult to access and highly charged. She shows us Gaza as she experienced it in the quiet pause before the onslaught of Israeli bombardment in the summer of 2014. Nashashibi travelled to Gaza with producer Kate Parker and cinematographer Emma Dalesman.
Artist-filmmaker bio
Rosalind Nashashibi (b. 1973 in Croydon, UK) became the first artist in residence at the National Gallery in London (UK), after the program was re-established in 2020. She was a Turner Prize nominee in 2017, and represented Scotland in the 52nd Venice Biennale. Her work has been included in Documenta 14, Manifesta 7, the Nordic Triennial, and Sharjah 10. She was the first woman to win the Beck's Futures prize in 2003. 

Alam (2022), Firas Khoury, 104 min, France - Tunisia - Palestine - Qatar - UAE, Drama
ALAM follows the story of a Palestinian teenager named Tamer, who – along with his friends – leads a typical teenage life until one day he has an awakening when he meets his politically aware dream girl, the beautiful Maysaa. As he grows closer to her, Tamer agrees to take part in a mysterious and life-changing operation dubbed 'Alam.' Immersive, and with strong undercurrents, Firas Khoury's stunning debut floats across the screen and shines a light on the contradictions of identity and forced forgetting.
Filmmaker bio: 
Firas Khoury is a Palestinian scriptwriter and director with several short films to his credit, among them are the award-winning movies Seven Days in Deir Bulus (2007) and Yellow Mums (2010). These films were broadcast at festivals around the world and on TV channels, including Arte and VVD. Khoury also taught filmmaking at the University of Nazareth and at the School of Cinema at the Freedom Theater in the Jenin refugee camp. Additionally, he is a founding member of Group Falastinema, which develops film workshops and presents screenings across Palestine.

As If No Misfortune Had Occurred in the Night, Larissa Sansour & Søren Lind, 21 min, Palestine/UK, Three-channel video/ opera
As If No Misfortune Had Occurred in the Night is a three-channel video work (shown on single channel for the purposes of this screening) featuring an Arabic-language opera on loss, mourning and inherited trauma. A single aria is performed by Palestinian soprano Nour Darwish. The aria is a new composition by Lebanese composer Anthony Sahyoun, based on Gustav Mahler's Kindertotenlieder and the Palestinian traditional song Mashaal. Filmed in a derelict chapel, the opera is accompanied by archival material from Palestine and special effects. The piece is presented in black and white as a three-screen projection, like an altar triptych.
Artists bio
Larissa Sansour (b.1973) is a Palestinian artist/director born in East Jerusalem. Sansour (PS/DK) studied Fine Art in Copenhagen, London and New York. Central to her work is the dialectics between myth and historical narrative. In her recent works, she uses science fiction to address social and political issues. Working mainly with film, Sansour also produces installations, photos and sculptures. Her work is shown in film festivals and museums worldwide. In 2019, she represented Denmark at the 58th Venice Biennial. In 2020, she was the shared recipient of the prestigious Jarman Award. She has shown her work at Tate Modern, MoMA, Centre Pompidou and the Istanbul Biennial. Recent solo exhibitions include Copenhagen Contemporary in Denmark, Bluecoat in Liverpool, Bildmuseet in Umeå and Dar El-Nimer in Beirut.  Sansour lives and works in London.
Soren Lind (b. 1970) is a Danish author, artist, director and scriptwriter. With a background in philosophy, Lind wrote books on mind, language and understanding before turning to art, film and fiction. He has published novels, shorts story collections. His children's books are translated into several languages. Lind screens and exhibits his films at museums, galleries and film festivals worldwide. His work was shown at the Danish Pavilion at the 58th Venice Biennial. Other recent venues and festivals include Copenhagen Contemporary (DK), MoMA (US), Barbican (UK), Nikolaj Kunsthal (DK), Berlinale (D), International Film Festival Rotterdam (NL) and BFI London Film Festival (UK). He lives and works in London.