Location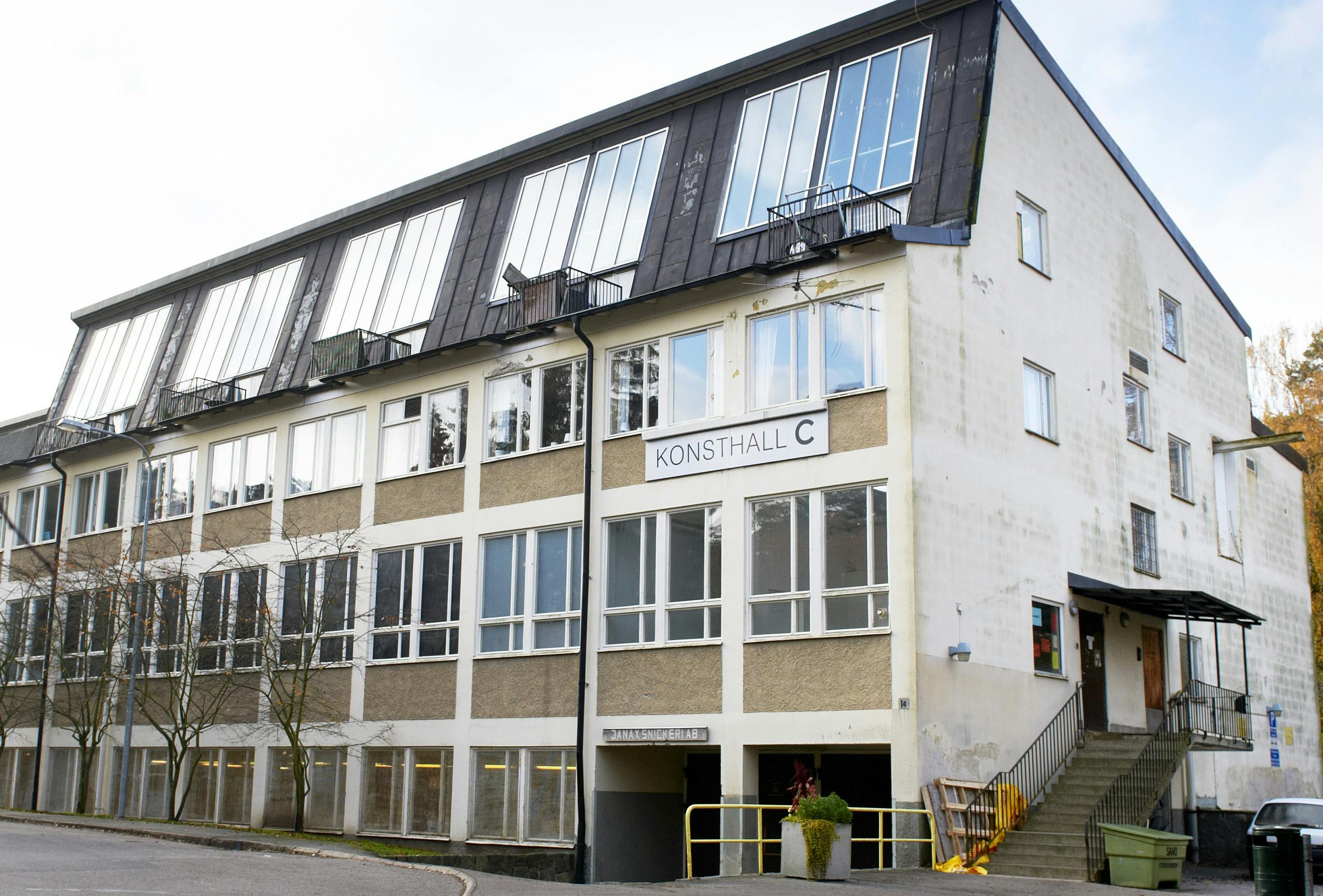 Welcome to one of the most exciting art spaces in Northern Europe!
Konsthall C is located at Cigarrvägen 14, about 700 m from Hökarängen metro station. If you are car bound you can either use our visitor's parking or park for free on the street. 
Our main activities consist of exhibitions and events on site and in the neighbourhood. You are welcome during opening hours (Thursday–Sunday 12–5 PM during active exhibitions) or scheduled events. Entrance and exit at the north end of the house, close to the park entrance. Accessible entrance with the help of staff (ring service bell). Free admission!
Here are some other ways in which you can engage with us:

Konsthall C is equipped with emergency exits in both directions: the office entrance and the public entrance. Fire extinguishers and fire blankets are available at both exits. 
The common office is used by all employees, who work side by side on different projects. There is also a kitchen and WC. 
In addition to the art gallery, there is the artist-in-residence platform, the Research Station (a stone's throw away).
We offer parking space for visitors with physical disabilities located outside the art gallery. Although our space is located one floor up, our old premises require three lifts to take you to us. If you are in need of guidance or assistance, press the button located at the main entrance.  Hearing aids are not available at film screenings, shows or audio works. There is an accessible toilet on the premises, ask our staff for directions.
We generally offer written information in Swedish and English. Our staff is fluent in both languages. Although we strive to make all works easy to engage with, traditional 'art speak' can be complicated and require background information. Feel free to ask, comment and in other ways share your thoughts with our staff.
A Safe Place for Everyone
We want Konsthall C to be a safe place for everyone who works, collaborates with and visits us. One of the most important aspects of this is mutual respect and understanding of each other's differences. Aware that different types of oppression interact, and also set against each other, we believe that each situation should be handled with attention and care. As an introduction to this, we have compiled a short list of simple tips on what you can do to help us make Konsthall C a safer place for employees, partners and visitors: 
Our staff is responsible for the safety at Konsthall C. When visiting you are obliged to comply with their requests at all times. We do not tolerate any harmful, threatening or demeaning behaviour towards our employees or anyone else.
Every person enjoys art in their special way. Be mindful of how your actions contribute to or obstruct others' experiences. 
Listen before you speak. Do you get annoyed by what is presented? Wait and formulate your question with care. Let your emotions catch up before you give criticism. 
If you feel upset, stressed out or unsafe, let our staff know immediately.
Cats and dogs are very welcome! Please keep your pet on a leash at all times. 
We are always striving to improve our accessibility in all aspects. If you have any comments or questions, please let us know at info@konsthallc.se or + 46 8 604 77 08.