Care and value: the newspaper
a collaborative paper

25 maj 2022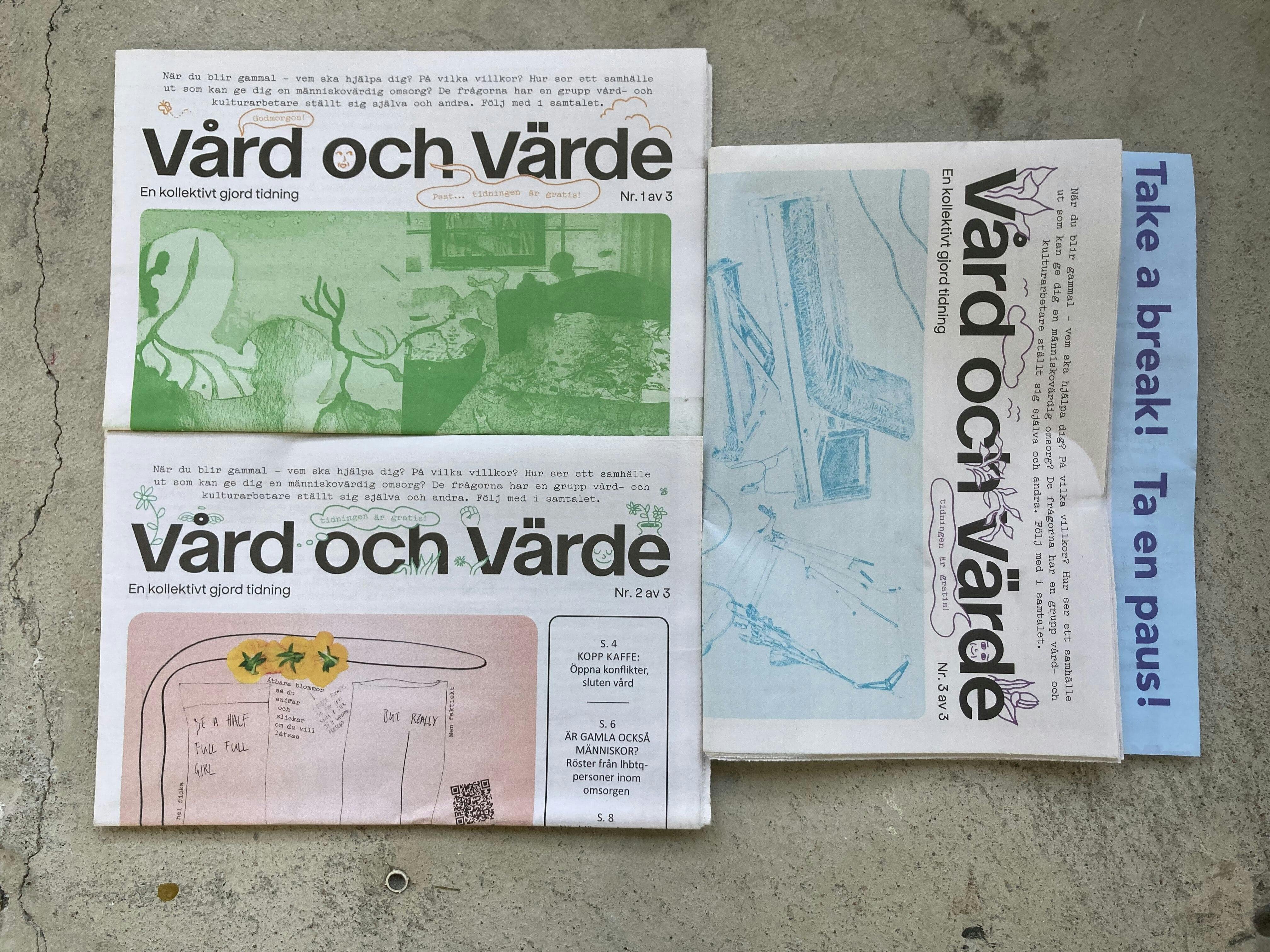 Care and Value is a collaborative research project between care and cultural workers. It explores the conditions for care workers from a feminist perspective with a focus on different generations, groups, backgrounds and experiences. The project begins with a collectively made magazine that details experiences of care featuring conversations with different people who work in the sector. The newspaper is the first in a series of three that follows our ongoing research. 
Care and Value is designed by Johnny Chang and Louise Nassiri. 
The editorial team includes Ulrika Flink, Erica Johansson Afreixo, Gunilla Lundahl and Jenny Richards. 
The following have contributed to Care and Value newspaper: Anahita Amirpour, Fredda Berg, Britt and Nilla, Susanna Bydås, Johnny Chang, G, Ulrika Flink, Rasmus Gabrielsson Eriksson, Lena Jarlöv, Erica Johansson Afreixo, Natte Hillerberg, Sonja Höök, Läkare mot Rasism , Lilian Lindblad Domec, Mona Lindström, Gunilla Lundahl, MAMI: AMA: MÖDRAR, Rossana Mercado-Rojas, Mourning School, Louise Nassiri, Hero Rashid, Jenny Richards, Sanna Tefke, SBAR.CARE and Therese Brodin, Anna Siverskog, Linnea Swedenmark, Isabella Tjäder, Zafira Vrba Woodski, Tomas Woodski and Nawroz Zakholy. 
If you want to know more, please email - vardochvarde@gmail.com or write to Vård och Värde, Odd Fellowvägen 30, 12732 Skärholmen 
Download a pdf of the newspapers at the bottom of the page
Care and Value - Newspaper 1/3 
When you grow old - who will help you? Under what conditions? What does a society look like that can give you humane care? A group of health and cultural workers have asked themselves and others these questions in the collectively made newspaper Vård och Värde. The questions have revolved around a few themes. The first is how we understand care, a form of labour that we all perform or receive at different stages in life. The second is the different dimensions of care work - heavy, physical and demanding, loving, warming and grateful. The third is how we can think about the care that connects generations, creates new communities and deepens the knowledge of life, which opens the eyes to the diversity of life experiences.
Care and Value - Newspaper 2/3 
In this issue, we continue to highlight stories from the different parts of elderly care, those who give and receive care, the challenges of dementia and the power of the collective. We meet queer voices, a struggling aid worker, and a ghost. We are looking for alternatives and see the complexities of building a cooperative. We are inspired by the initiatives of others and thank mothering as an act of care.
We try to understand what happens when you die, how funeral homes work (and profit) and what to do if you can not afford their fees, or simply want to choose your own path. We follow up on what happened after our open call workshop and suggest ways to deepen these investigations. On the cover, you can see a work by the artist G, invited by Mourning School, an artistic study program with a focus on collective mourning and how it can become a feature of everyday life. We want to use the magazine to make room for, and continue the conversations about elderly care and how it is organized. If you want to participate in the conversation, get in touch with us.
Care and Value - Newspaper 3/3
How much of care work is taken up by writing, reading, documentation and diary entries? This issue contains reflections on the role of writing in care work. How racism affects both patients and caregivers is clearly documented, but what are the strategies to counteract it? We talk to doctors against racism and examine collective organization within the health care system.
Around death, many rituals and attitudes take place. What can alternatives look like? A question to take out in life.
Some of the many possible tasks of art in the vast landscape of healthcare have been made visible here. How the art of cross-border conversations unites carers and carers in the hospitals. How can art establish links between body and mind by offering sensual presence and anchoring in ancient, shared, experiences? Crafts in art and care work are closely linked by requiring training, patience and imagination.
Students at Konstfack have contributed to this last issue with an appendix where they work across language to explore the relationships between care and art and thereby open to solidarity between the two fields. They also speak to the necessary breaks that have disappeared from care by proposing a break in reading with games and a playlist.